CALL 1.800.726.0108 or 701.742.2167 FOR CUSTOMER SERVICE.


AC POWERED FENCERS
MODEL # EAC100M-RS
•Powers up to 100 miles of fence
•Works in heavy weed conditions
•115 volt, 60 cycle; pulsed output (1-second intervals)
•6 joule output
•Storm Guard lightning protection
•UL listed
•3-year limited warranty including damage
caused by lightning
•Made in the USA
•Digital timing
•Fuseless design
•Indicator light showing fence charger is working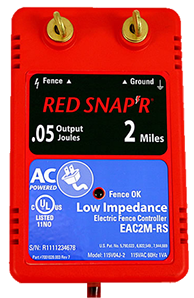 MODEL # EAC10M-RS
•Controls small and short haired animals
•Light and no weed conditions
•Use with all types of steel fences
•Maintains high energy on the fence
•Digital timing
•Sealed, plastic cabinet
•Output Voltage - 2.5 KV
•.05 joule output
•115 volt, 60 cycle; pulsed AC output (1-second intervals)
•Comes with a 1-yr warranty that includes damage caused by lightning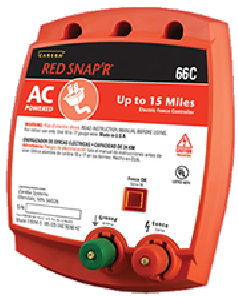 MODEL # 66C
Red Snap'r® 15 Mile AC Solid State Fence Charger is ideally suited for livestock and horses, although it can also be used for all farm and ranch animals. It powers medium length fences through moderate, dry weeds. It has a rugged, weather-resistant case and easy hook-up terminals provide secure connection.
EMERY VISTO'S IMPLEMENT & CARQUEST - 1009 7TH STREET SOUTH - HWY 1 - OAKES, ND 58474