CALL 1.800.726.0108 or 701.742.2167 FOR CUSTOMER SERVICE.

INDUCTOR BULK STORAGE TANKS
Inductor Tanks are selected as supply tanks for application systems and when a more complete drain out of stored liquids is required in indoor or outdoor applications. Tanks require stands to support the conical bottoms. Tanks are manufactured from medium-density polyethylene with U.V. inhibitors and designed for containment of liquids of up to 1.7 specific gravity. Tank walls are translucent for level viewing and equipped with gallon indicators.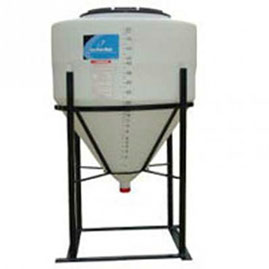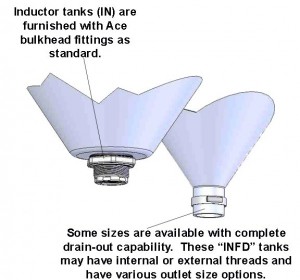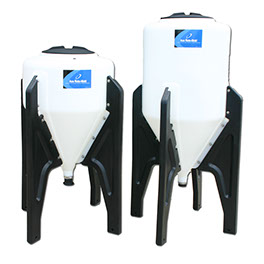 INFD15-19
15 gallon
19 x 24
Our Price
CALL
INFD30-24
30 Gallon
Full Drain Inductor Cone
24x33, 11-1/2"
Our Price
CALL
INFD55-24
55 Gallon
24 x 46
Our Price
CALL
INFD60-24
60 Gallon
Inductor Cone
24x46
Our Price
CALL
IN30/60ST
Inductor Stand for
30 or 60 Gallon Tank
Our Price
CALL
IN40/85ST
Inductor Stand for
40, 60, 85 or 110 gallon
(for 30" dia. tanks)
Our Price
CALL
INFD30/55-ST
30 or 55 gal
Full Drain Tank
Our Price
CALL
INFD30/60-ST
Inductor Stand for
Full Drain 30 or 60 Gallon
4" Taller for Full-Drain tank
Our Price
CALL
IN0030-24
30 Gallon
Inductor Cone 24x33
Our Price
CALL
IN0040-30
40 Gallon
Inductor Cone 30x34
Our Price
CALL
IN0055-24
55 Gallon
24 x 42
Our Price
CALL
IN0060-24
60 Gallon
Inductor Cone 24x42
Our Price
CALL
IN0085-30
85 Gallon
Inductor Cone 30x43
Our Price
CALL
IN0110-30
100 Gallon
Inductor Cone 30x51
Our Price CALL
IBFD35-SET
35 Gallon
Full Drain
25 x 25 x 43
Our Price
CALL
IBFD60-SET
60 Gallon Blow Molded Inductor Tank
w/Poly Stand Set
Our Price
CALL
EMERY VISTO'S IMPLEMENT & CARQUEST - 1009 7TH STREET SOUTH - HWY 1 - OAKES, ND 58474