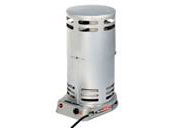 MODEL : RCP200VA
•Heats up to 4,700 sq. ft.
•75,000 to 200,000 Btu/Hr.
•Adjustable Heat Output
•Runs Approximately 11 to 28 Hours on a 100 lb. LP tank or larger
•No Electricity Required
•Collapsible Design for Storage
•Pilot Light
•Piezo Matchless Ignition
•Hose and Regulator Included
•One-Year Warranty
•Ideal for patios, work shops, work sites, recreational activities, remodeling, and construction job sites.
•Big Heat for Construction, Dry Walling, and Industrial Projects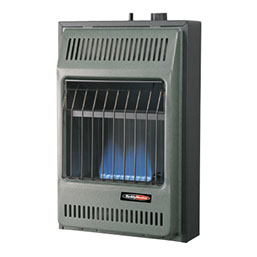 MODEL : RH10PT
•Propane blueflame Reddy Heater
•No Outside venting required
•Safe, clean burning
•Heater is 99% Efficiency
•Does not require electricity
•Easy installation and operation
•The RH10PT includes 10' hose and regulator
•Simply attach the RH10PT to a 20 lb. propane tank for 30+ hours of hunting and fishing
•Average hours of heater operation with 100 lb. propane cylinder:
Low - 392 hours High - 216 hours
•Push button piezo ignition
•Safety pilot system
•Heater dimensions: 21-1/2" H x 13-1/2" W x 7" D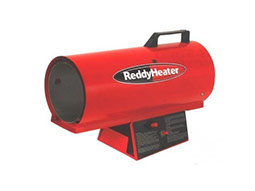 MODEL : RPL30
• Runs up to 14 hours on a 20-lb. propane cylinder
• Piezo matchless ignition
• 10-foot hose and regulator all included Clean-burning odor-free operation
• Instantly circulates heat
• high-capacity fan provides immediate warmth
• Convenient and economical to operate - automatic electronic ignition with easy one-hand startup
• Unique gas system designed for increased burn time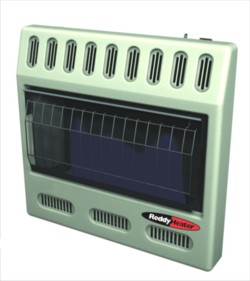 MODEL : GP30TA
• Wall Mount Heater
• built in pressure regulator
• Safe and clean burning, Reddy Heater ventfree garage heaters are design certified by the American Gas Association and meet or exceed all government safety performance standards.
• A dual purpose safety pilot system protects against oxygen depletion and any interruption in the fuel supply. If either occurs, the gas is shut off to the burner, turning the heater off.
• Provides heat during power outages. No electricity required
• Clean, quiet, odorless operation
• easy to use top mounted controls
• push button ignition.
• Sheet metal panel & safety grill (this unit does not have glass)
• Low heat 15,000 BTU's
•High heat 30,000 BTU's
•Average length of heater operation on with 100 lb. propane cylinder
144 hrs. on low setting 72 hrs. on high setting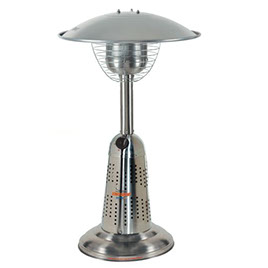 MODEL : SPC-21PHTSA
• Operates on a one pound(16.4 oz) Propane cylinder
• Adjustable heat output from 10,000-15,000 BTU's
• Piezo push button igniter
• Assembled dimensions-36 Inch height x 14.5 Inch width base
• 22 Inch-Dome top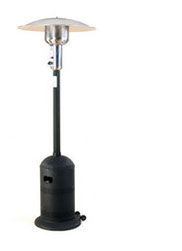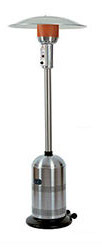 MODEL : SPC-54PHB/S
• 40,000 BTU Patio Heater Propane
• Black Powder Coated / Stainless Steel
•The Outdoor Leisure products extend the comfort of your home to your deck and patio.
•America is moving outside and Outdoor Leisure has lots of great warming ideas